The level of variance and innovation coming out of David Zibell's Golan Heights Distillery is staggering, and while the whisky regime for the next couple of years seems to have been established (single cask releases of Golani, Golani Black and Golani Vino, as well as releases of single malts released as single casks both at cask strength and at 46%), there are special editions that sparkle even among the single casks.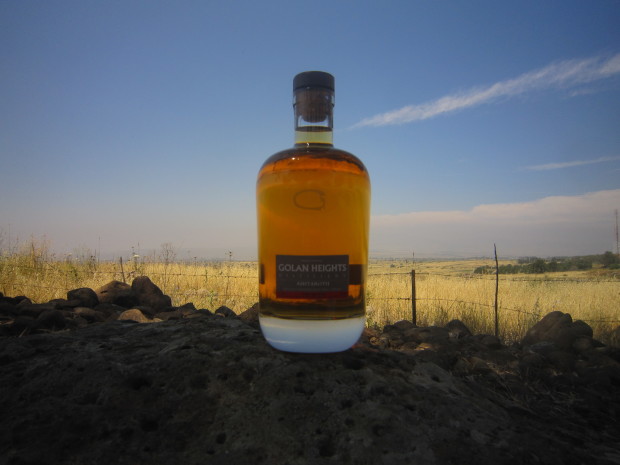 About six months ago David bottled a grape brandy, and the Golani liquid that until then was in a first fill wine cask (basically getting ready to be Golani Vino) was transferred into the 50 Liter brandy cask for six months. It was bottled yesterday and is being released to celebrate Israel's 70th Independence Day.
Accordingly, there are only 70 bottles of this to be had, which is a shame, because I really like it.
Golan Heights Distillery Golani Two Grain Whisky 2nd Anniversary Edition, Brandy Finish, European Oak, 70 Bottles  (49.7% ABV, NCF, NC)
Appearance: Amber, very slow and thin legs peeling off a sturdy necklace.
Nose: The brandy is really clear on the nose, reminiscent of a Calvados. There , together with a rich milk chocolate followed by a floral bouquet and some of that signature Golani DNA, but sweeter. Toasting malt and baking bread. Cinnamon and star anise, with hints of nutmeg and allspice. After resting a bit in the glass, the char is apparent on the nose, as is a little dryness that I'd expect from the wine cask it originally matured in for two and a half years.
Palate: Spicy and bitter (the lovely bitterness I adore), with pepper and clove and a little bit of fizz.
Linger: Citrus rind bitterness, and a hint of apple brandy, and a long hit of spice in the mouth and around the gullet, with a dryness in the mouth that has a hint of green apple peels.
Conclusion
This is a complex and layered dram, with the brandy finish piping it up. The Vino base lends itself to the freshness the brandy imbues. This really is lovely stuff.