If you want to see who's a local to one of the Scottish Hebrides, just mention the following word: "CalMac". To you and me, it's a ferry company, but to a Hebridian, it's the epitome of the challenges in island life. In this visit I have had the opportunity to learn just how dependent Islanders are on the ferries, and how hard this can make life. We had a small taste of it on this trip, and all I can say is that you can elicit some very angry commentary from locals asking them about the ferries. We met this issue twice. First, the whole winter schedule was published pretty late making our planning for the trip contingent on the Islay and Mull ferries. But even once published, the Mull to Oban schedule was still being discussed, and was published only days before we had to travel, in a much reduced capacity (yes, I know CalMac has objective problems with its ferries, mechanics and with budgets).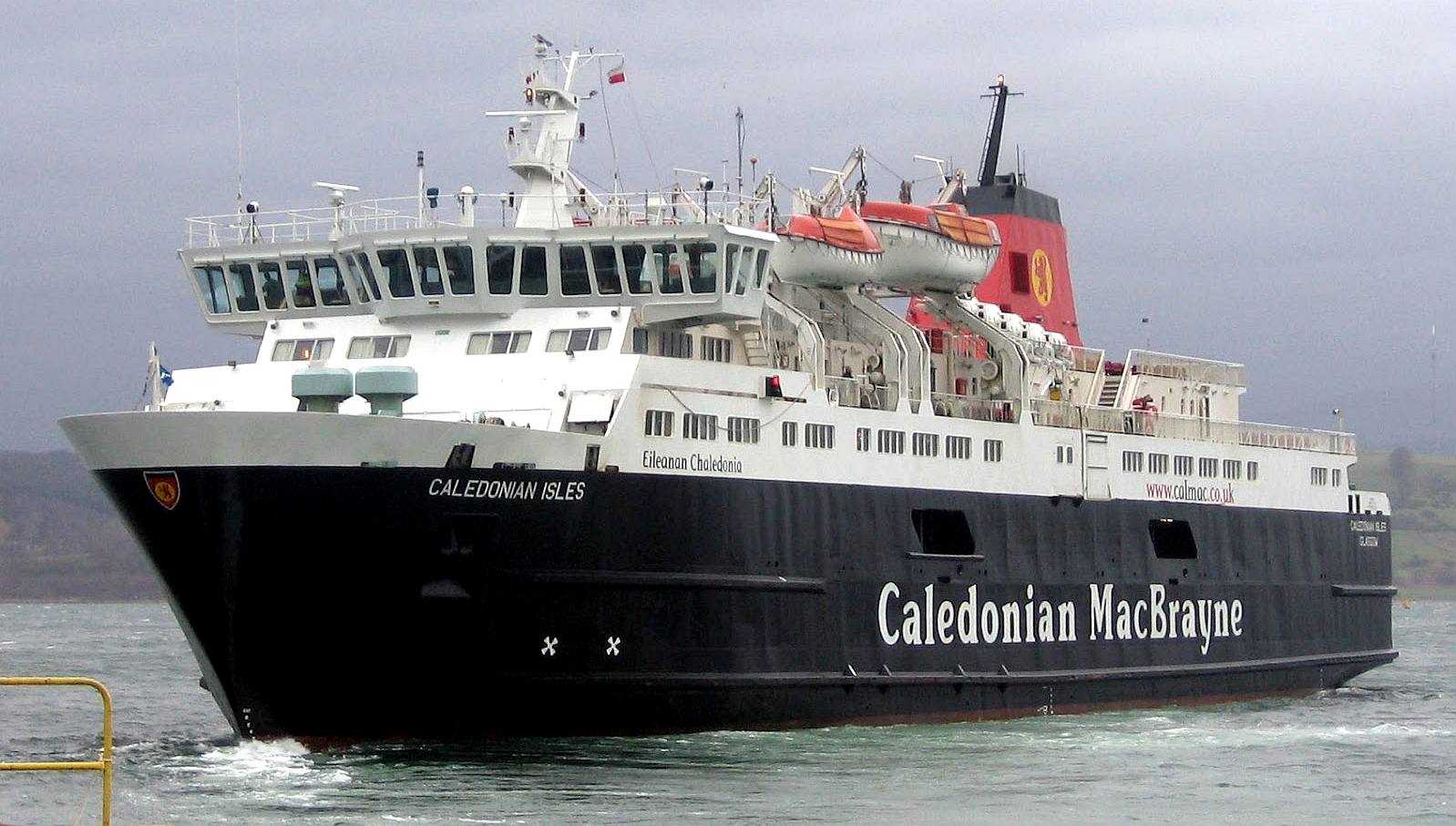 The Plan
Our initial plan was to go from Fort William by car to Ardnamurchan in the morning, then take the ferry from Kilchoan to Tobermory, and end the day traveling with our rented car to Oban to head down to Campbeltown. However, due to the late publication of the Mull to Oban timetable and the removal of one of the two ferries running the route, the last ferry off Mull was at 5 pm (instead of 8) and there were no car berths to be had. I'm told local residents have priority booking on the ferry, which makes perfect sense.
What Really Happened?
We ended up forgoing our drive into the Ardnamurchan peninsula (which is a shame, I hear it's stunning), and drove to Oban for an early morning ferry to Mull, minus the car. From Craignure, there's a bus (495) that goes directly from the ferry to the front door of the distillery, which lies at the start of the Tobermory main street. The bus takes about 45 minutes, and is synchronized both ways with the ferry. In years past, the southern side of the bay (where the distillery is located and the picture taken from) was called Ledaig and the northern part (with the famous painted houses) was Tobermory. Now it's all Tobermory and Ledaig lives on in the whisky. I also learned that the local pronunciation of Ledaig is LE-zhaig.
After a lovely walk around Tobermory, marred only by the fact that Yoav dropped his phone which now rests in pieces, we came to the distillery to meet Distillery Manager Murray Kerr. Murray has an infectious enthusiasm for whisky, and gave us a wonderfully in depth tour of the distillery.
The Tour
The first thing that strikes you at the Tobermory distillery is the size. The distillery is small, really small, and has absolutely nowhere to expand. Even the visitor center, which gets a lot of walk-in traffic by virtue of its central location seems cramped once a tasting lets out and people waiting for the bus wander in. Working at the visitor center can get pretty hectic. Some of the old warehouses were converted to apartments, and the distillery is basically hemmed in on all sides. The second thing that's really evident is the distillery's total reliance on the ferry. Everything but the water needs to be brought in. From malt to yeast, and as we mentioned, storage space is very limited. Also, since there's no warehouse space, all new make spirit has to go to the Glasgow suburb of East Kilbride for filling into casks and aging.  Both sides of that equation happen on a ferry, and running the distillery is a constant logistical juggling act. Even the malt storage bin management is a puzzle, as there are six 23 ton bins, but each truck (OK, lorrie) carries 28 tons so you need to choreograph your mashings with your malt arrival so you have an empty bin and a quarter for the malt that comes from Yorkshire. Think of that next time you take a dram of a Tobermory/Ledaig whisky. I think that calls for a toast those wonderful people that make this whole logistical machine tick.
I don't want the post to be too technical, but I will say that the 7.5 ton mash tun likes the Porteus mill to make grist that's a little less floury than the standard, and at Tobermory they mill to a 70-22-8 standard. The mash tun is so big, that to replace it they had to break open a wall, which was then rebuilt with room to walk around the mash tun. Ladaig's malt is peated at 40 ppm and Tobermory's is completely unpeated.
The distillery is working almost at full capacity, 24 hours a day, five days a week, making 900,000 LPA per year (out of a theoretical capacity of 1.2 MLPA). I say full capacity because the four new Oregon Pine washbacks (each at 33,000 liters) are the distillery's bottleneck. The recipe calls for long fermentations of over 100 hours to be combined with shorter fermentations of 52 hours. Five long fermentations are distilled and mixed with four short fermentation for Ledaig; Tobermory is comprised of five long fermentations on three short ones, and the washbacks are at full capacity. This is part of Master Distiller Brendan McCarron's focus on Tobermory spirit and getting more fruity notes into it.
Each washback fills two distillation runs, each week has nine mashes, so we have 18 wash still runs which produce 8-10 spirit still runs. The lyne arms go straight out, then tilt up, creating sort of an S, creating some serious reflux back down the lyne arm, following that created earlier by the (relatively small) reflux ball.
Each brand, Tobermory and Ledaig is distilled for six months out of the year.
Should you get to Mull?
I have always adored Tobermory, and getting to the distillery was a priority for me on this trip. I have to say that getting to the distillery was worth every bit of the effort. So, if you're already a fan of the distillery, you obviously have to get there. But if the distillery is (somehow) not near the top of your list, you DEFINITELY need to get there, see Tobermory for yourself and do the tasting. I'm sure you won't remain on the fence!
By the way, in season, Mull is a prime location to see Puffins 🙂
The Tasting
After our fascinating in depth tour, we went into a room in the visitor center for the Warehouse tasting. We joined a group of Dutch enthusiasts who came over for the tasting, whom we incidentally met also in Glen Scotia. If you were wondering, the warehouse tasting wasn't in the warehouse as there was something there that prevented visitor entry into the warehouse.
The tasting included:
Tobermory 2012 ex-bourbon,  58.7%.
Tobermory 1995 Manzanilla Finish, 52.7%.
Ledaig 2012 ex-Bourbon, 59.7%.
Ledaig 2009 Red Wine barrel, 56.3%.
The empty full size Glencairn was for new make spirit.
While the 2009 Ledaig was an absolute stunner, it's no longer for sale. Hence, I chose to review a dram that's available to taste at the distillery, and is also still available for purchase.
The Whisky Review
The 23 year old Oloroso Sherry Cask Finish is actually the 15 year old that was discontinued a few years back, but left in the finishing Gonzalez Byass Oloroso Casks for a further 8 years. The Hebridean Series is planned to be a five year project, each edition visiting the whisky another year into its (already) long finish. This should get more and more interesting as this progresses. The second installment, the 24 year old, is also out.
Tobermory Hebridean Series,  23 Year Old, Oloroso Cask Finish (46.3% ABV, NCF, NC)
Appearance: Deep gold, there's a very sturdy necklace with droplets peeling off very slowly to form very slow legs.
Nose: Leather, dried fruit and oranges, with a hint of brine. Sweet and lightly floral, with notes of fresh peach and light wood spices. After some time in the glass, hints of cereal and malt come through.
Palate: Pepper and citrus rind mix with bitter almond and cocoa powder. It's spicy and bitter, with just a very light hint of unrealized sweetness. It's a complex dram, but will not be up everybody's ally.
Linger: Spicy and dry on the tongue, with pepper and nutmeg, with a tannic dryness inside the cheeks and in the back of the gullet. There's also a woody bitterness there adding to the complexity, with a faint hint of bitter cocoa powder.
Conclusion
The palate and the nose are somewhat on different pages. The fruity promise of the nose is taken to the bitter end of the spectrum with citrus rind and bitter almond. To me, this makes this dram more interesting, although this is really not what I imagined against my (admittedly faint) memory of the Tobermory 15, which I remember as a sherry bomb, but don't have notes to compare.